Inlay/Onlay Porcelain Insert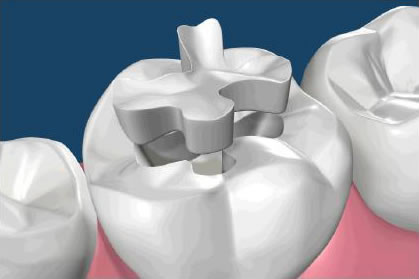 When your tooth is damaged enough where a filling cannot effectively treat it, but is not damaged enough to need a dental crown, you end up with a problem that is somewhere in the middle. The treatment that is most effective for this condition is called an inlay or onlay porcelain insert. In this particular case, using a large filling would require the removal of too much tooth structure, and risking further damage in breaking, cracking, or needing of a root canal. However, opting for a dental crown treatment might be too conservative and may not be necessary.
The Mint Method
For larger cavities or decayed areas of the tooth that require a large filling, our office uses either a dental inlay or onlay treatment. An inlay is very similar to an onlay. The difference is in the size of the restoration. Typically, an inlay is smaller and fills the space between the tooth's cusps, or rounded edges at the center of the tooth's surface. An onlay treatment typically fills in the entire biting surface of the tooth. Inlay and onlay inserts are all porcelain construction, similar to a crown. Like crowns, they provide superior strength and durability compared to composite fillings. They also provide an aesthetically pleasing cosmetic finish that closely matches your natural teeth.